Trail ride through the climate zones
It has snowed overnight; the cold wind blowing on Piz Nair leaves no doubt that summer is past its peak.
13 kilometres of single tracks lie ahead of us, down dusty mountain sides, over pastures, through mountain streams and woods until we reach the historic railway line in Val Bever.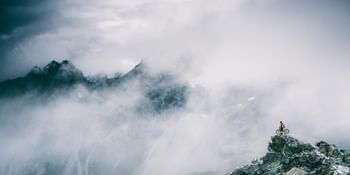 At times, the air will be so clean that visibility is beyond 100 kilometres, and you can positively smell the snow. You'll never go wrong wearing long sleeves and trousers at 3,000 metres – not only after it just snowed.

THERE'S NO TIME TO REMAIN DROWSY:
Total concentration is required on the path down to the Lake of Suvretta. The landscape is barren, making it all the more grandiose; there is hardly a smell in the air. Against all odds, some plants manage to get a foothold in the cracks of the rocks; every spring, they will take up their fight for survival, and, in late summer, will reward us with their bloom.

WE HEAD NORTH ALONG THE VAL SUVRETTA TOWARDS SAMEDAN.
The hundreds of steps of stone down the old Alpine trail are truly a biker's playground. Every now and then, our ride takes us through a brook, and, as we lose altitude, the vegetation gradually becomes more diverse: the endless stretches of loose stone turn into pastures; cows graze peacefully and leave us with the first scents.
TIME, AND DISTANCE, FLY BY.
As we reach the Alp Suvretta, shrubs start lining our path; next, we are amidst pines and other evergreens, and even non-coniferous trees. The single track has turned into a gravel road and the brook into a river, which runs in cascades down to Val Bever.

We turn a corner and find ourselves in front of the Spinas Inn, a cosy, welcoming place. Some will take the train from here; the railway that pioneers brought to the Engadin over one hundred years ago. We are back in the valley.