Ski and snowboard rental
The right equipment for piste, powder and backcountry
Skiservice Corvatsch offers the biggest selection of equipment to test or rent. Skis, snowboards, boots, helmets and glasses are individually chosen and adjusted. So that your days in the snow are the most beautiful of your entire year.
Within our wide range of ski and snowboard categories, we have the perfect equipment to meet your personal needs and preferences. Regardless of whether you wish to ride the piste or fresh powder: At Skiservice Corvatsch, you are certain to find what's right for you thanks to a full selection of models from the current season. Turning each and every run into an enjoyable adventure.
Rent your equipment at one of our shops and on the following day, your equipment will be waiting for you wherever you prefer.
Explore our shops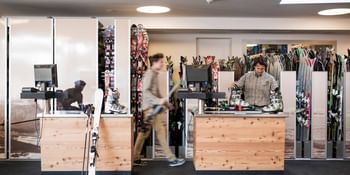 Getting a head start by renting your skis and snowboard with us
Many makes, manufacturers and models
You will enjoy top-quality skis and snowboards across the range when renting your sports gear at Skiservice Corvatsch. This is the home of premium snow sports brands.
Rental gear in top shape
Skis and snowboards are serviced for every client and adjusted to their skill level. Upon request, your skis or snowboard will get an extra overnight tuning.
Discounts for student and travelling groups
Special discounts await larger parties renting their gear at Skiservice Corvatsch as a group – making the fun on the slopes even more fun.
Range of rental skis at Skiservice Corvatsch
Range of rental snowboards at Skiservice Corvatsch
Rental prices winter 2021/2022
Wide range of skis and snowboards, including many premium models
Choose the gear that best suits you from our wide range
Pick from one of four ski categories: Ski Easy are very forgiving, easy-to-ride skis providing stability in all terrains. Performance skis aim for speed and power, be it with shorter or longer turn radiuses. Swiss Made score with exclusive models of the Swiss quality ski manufacturers Stöckli and Molitor. For a special treat on skis, look no further than Zai's premium hand-made skis.
Choose from either of two snowboard categories: Snowboard Easy are very forgiving boards, making it easy to change from one edge onto the other for the next turn. Performance Boards are best for athletic boarders, who might also venture off-piste or into the backcountry.
Take a look at Skiservice Corvatsch's ski and snowboard rental department
Your gear awaits you at our shop
How Skiservice Corvatsch's online rental service works
Book your gear from home or on the go for your maximum convenience
Choosing and booking your winter sports gear has never been easier. Hire all the gear you need for yourself and your companion(s) in just a few easy steps with Skiservice Corvatsch's easy-to-use online booking tool.
First, select one of our 13 shops from where you want to rent as well as the dates on which you wish to rent. Next, pick your preferred sports gear from the different product groups, broken down by category. Finish off by letting us know your body measurements so that we can adjust the skis, poles, helmets, boots or other gear to your physique before you complete the online payment. We will send you a confirmation of your booking by email. Please present the booking code at your selected shop when picking up your gear on the first day of your rental. We are looking forward to your visit!
Note: You are welcome to pick up your gear at your selected shop as of 15:00 on the day before your rental begins.
Shops offering ski and snowboard rentals