Ski and snowboard depots
Straight from the piste to the shops
After your day on the piste, you can pull on some lightweight shoes in our ski depot and make a beeline for the après-ski bars, the shops or a wellness treatment. Simply leave your skis, board and boots here with us overnight – we will take good care of them.
If you wish, overnight we will also prepare your skis or snowboard so that everything is in perfect condition the next day and your fun will continue unabated. Just tell us which shop you would like to pick your gear up at the following morning – and we will deliver it there for you.
In this way, not only will you be able to hop on the first lift of the morning, you will also avoid having to struggle with all that cumbersome skiing gear. Our guests' comfort, convenience and pure joy of skiing are always our top priority.
Explore our shops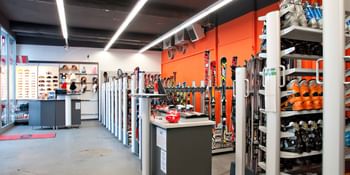 Advantages of our ski and snowboard storage facilities
Storage and drying in a bundle
We will store your gear at one of our shops. The storage spaces are heated, so your equipment will dry overnight, in perfect condition for the next day on the slopes.
No lugging of cumbersome gear
Carrying your gear back and forth from the hotel or chalet to the slopes can be a hassle. Instead, just leave it with us!
It is not just a locker
A friendly face will greet you at each one of your storage spaces. Drop off your gear at any one of these shops and pick them up the next day in another shop should you wish (just remember to let our staff know so that we can make sure they get there!)
Convenient locations right next to the ski lifts
All shops with storage facilities are situated next to the bottom or top ski lift stations in and around St. Moritz. Short distances: that's our motto.
What to expect from our ski and snowboard storage spaces
At our shops, only the best is good enough for your gear
All of Skiservice Corvatsch's ski and snowboard storage facilities are in the vicinity of lifts and slopes – the fastest way of dropping off and collecting your gear.
All our storage facilities are heated. Your gear will dry off overnight, no matter how much snow they were covered in. Your equipment will be stored safely as all our facilities are within the shops. So you are all set for a carefree après-ski.
Dropping off and collecting your sports gear
Dropping off your sports gear and picking it up at a different store the next day
You can drop off your ski gear at any shop with a storage facility. There is plenty of space at each one. We will not only safely store your equipment overnight and make sure it is dry the next day, but we will also have your skis or snowboard serviced should you wish so. We will sharpen the edges and repair minor damages in the ski bases.
All Skiservice Corvatsch shops with storage facilities work in a network. So, you are free to drop off your skis at any one shop that has storage – giving you full leeway on deciding which ski run to finish off the day with. We will even have your skis or snowboard ready at another shop the next day, should you wish (just remember to let our staff know so that we can make the transfer!)
These shops offer ski and snowboard storage facilities