Bike rental
The Engadin on two wheels
Welcome to the biking Eldorado of the Alps! More and more guests of the Engadin explore the valley and mountains by bicycle. Skiservice Corvatsch has the widest selection of rental bikes for you; from kids' bicycles to the very latest in electric mountain bikes.
Ask for a bike guide! Experienced locals will explore the Engadin with you, giving you great tips and teaching you a few tricks along the way. They know the many trails, the best rest places and restaurants, and will show you the way to some of the most beautiful scenic spots in the region. If you prefer to explore the Engadin and its trails independently. Here you will find lots of great suggestions for your biking enjoyment on pump tracks and in skills parks. The interactive mountain bike map contains all routes suitable for biking.
In our shops, we will advise you about the bike that's right for you and adjust the bike you pick to you personally. We also have a full line of helmets, gloves, protectors and outfits for you to choose from.
Explore our shops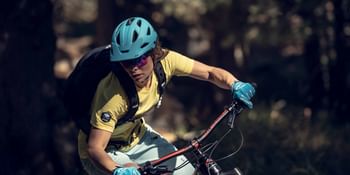 Advantages of renting a bike
Set for you
We will make sure the bike is just the right size for you. It will be more comfortable, and you will get more power to the ground.
Checked and serviced
We thoroughly inspect every bike before it is rented out – to make sure all our clients get bikes that are in tip-top shape.
Makes of mark
We carry bikes of well-established manufacturers that for many years have demonstrated their capability of producing reliable, high-quality bikes – a plus for you.
Special kids' bikes
Our bikes for children have an adjustable frame – yet another good reason for a family cycling outing with children big and small.
Discover bikes for rent at Skiservice Corvatsch
Discover e-bikes for rent at Skiservice Corvatsch
Rental Prices Summer 2022
State-of-the-art bikes for full-day outings and flow trails
No matter where you are headed, you will find the right bike for the outing at Skiservice Corvatsch
Choose between freeride, hardtail or full-suspension ('fully') mountain bikes. A hardtail mountain bike has no rear shock, just a front suspension and is ideal for easier terrain and gravel tracks. Fullys and freeride mountain bikes have both back and front suspension. Freeride MTBs are the perfect choice for single trails and steep terrain, while fullys are your versatile all-rounder in the mountains.
eMTBs also come as either front-suspension Hardtails or full-suspension Fullys. Both come equipped with a powerful engine and a long-range battery so that nothing will stand in the way of a longer outing. You will come to appreciate the 'e' in eMTB when pedalling uphill.
You will not be disappointed, no matter which bike you choose.
Take a peek at Skiservice Corvatsch's bike rental department
A wide range of models for all expectations
Our online bike rental is as easy as can be
Pick a store, a date, and a product, and you're all set to go
With our online tool, booking a mountain bike is quick and easy. Start by selecting a store and indicating the day or days on which you are looking to rent. The system will then display the full choice of rental mountain bikes and eMTB in children's, youngsters' or adult sizes.
Bookings can be made for one or more people at a time so that you can include bikes and gear for you and your friends, family or companion in one single booking. To complete the payment, choose from a choice of online payment methods. Upon receipt of the booking, we will send you a confirmation email with all the details. Please, bring it along to the shop when you come to collect your bike and gear. That's it. You are all set for your upcoming bike outing in the Engadine.
Mountain bikes can be rented at these locations