There is a story to every picture.
The photographer Gian Giovanoli from Sils is known for his landscape photography and projects inspired by Engadine's cultural heritage. His book Bap e Figl became a bestseller. Still, he doesn't like a fuss being made about him. He'd rather be roaming the Engadine wilderness.
«Being in front of the camera is not my thing,» says Gian Giovanoli when we finish shooting his portrait at Lake Sils. Gian prefers to stand behind the camera. The photographer from Sils has made a name for himself as much with his photographs of Engadine landscapes and animals as with his staged studio shots of Engadine themes. Gian's pictures catch one's eye without resorting to sensationalism.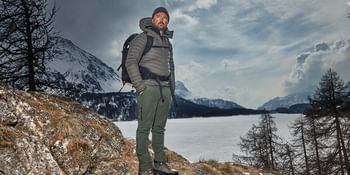 «My photography isn't fine art,» he says about his work. «I am more of an artisan. I make photos people find pleasing and want to hang on their walls.» His work is anything but commercial poster art, though – quite the opposite. Gian's work is available in limited series only, printed on top-quality paper and beautifully framed. «If I can arrange it, I will personally deliver my artwork and take time to mount it right where the client wants it. It gives me enormous pleasure to know where my pictures hang.» Gian has a warm and often close relationship with his clients. «I like telling people my story behind every picture, and I'm always fascinated by people's reactions to it.»
«L'Atelier»
is the name of Gian's art gallery, which he opened in St. Moritz at the height of the pandemic. Being a hands-on «artisan », he renovated the place himself. The former car repair shop's white-washed walls are the perfect backdrop for his largeformat photographs in their exquisite wooden frames. Success was quick in coming. Gian was increasingly tied up in his gallery and would often miss the perfect moment for one of his evocative landscape shots.
Still,he cherishes his time at the gallery. «In all the conversations with my clients, I learned much about their needs and relationship to the Engadine. At heart, I am not a gallerist, though – I have to get out and take pictures of my valley.» Gian's companion, Laura, stepped in and has been hosting the gallery ever since. «Laura is a stroke of luck,» says Gian, beaming. «She understands both my personality and my work. Together, we come up with new ideas, and, in no time, she has become the face and the master of my Atelier.»
Next winter, alongside his large-format landscapes, Gian and Laura will run an exhibition rooted in the native «plumpa» (Romansh for cowbell). The bell plays a special role in Engadine folklore. Its husky sound brings up childhood memories for many who grew up here; it recalls home. «My work invariably revolves around the Engadine valley and its way of life,» explains Gian. He will immerse himself into the subject matter for every one of his photo series, develop his theme and will often stage it in an unexpected context.
Good food is also an integral part of Engadine life. A year ago, Gian and his father, Dumeng Giovanoli, published their joint book Bap e Figl (father and son). It features over 150 local recipes, inviting to be tried out, striking landscape shots, and many anecdotes down memory lane. Again, his perfectionist streak and his love of good-quality materials shone through: the book was printed in neighbouring Poschiavo and bound by specialist crafters near Fribourg. The extra costs incurred turned the project into a financial gamble, which Gian took willingly: «From these skilled artisans, I can exact the quality that I can vouch for. If I had compromised on quality, the book would never have had the success it had.» The gamble paid off: The first edition was sold out after just a few weeks, and a year on, they have sold some 2,000 copies of the book, now in its third edition.
«I received much support from small sellers all over the Grisons,»
comments Gian modestly. «But, of course, I am pleased no end about this success.» He hasn't struck gold with this project, he says, with a laugh. Notwithstanding, he is already toying around with a second book. He also lets on that he is making plans for a new photography expedition. He sees it as a sequel to his portraits of nomadic peoples of Africa, India, and Syberia that he exhibited in his Atelier. Travelling, to him, is a change from life in the Alpine valley. Still, he would probably never want to emigrate. «This is where I belong, » he says, adding, «The Engadine is my home.»
Gian Giovanoli
L'Atelier – Gallaria da fotografias
Via Maistra 33
7500 St. Moritz
www.giangiovanoli.com