The returnee - Alexander Albrecht
HOME AGAIN! Alexander Albrecht slipped into Skiservice's latest men's fashion for the photoshoot. The actor recently returned to St. Moritz, where he spent happy childhood days.
«My heart leaps when I'm here; this is home; Here, I feel I could tackle anything in the world!» Once he starts talking about the Engadine, Alexander Albrecht is difficult to stop, bubbling over with joy. He remembers racing down the steep Via Tinus with his sleigh when he was a little boy or learning how to snowboard. As a child in St. Moritz, he made friends for life.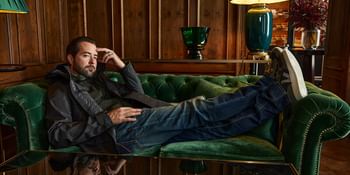 He moved to New York to realise his childhood dream of becoming an actor; he lived and worked in Mexico City, Berlin and Italy. He made a name for himself on the international stage with roles in The Queen's Gambit, a Netflix series, or the Sky series Litte Birds. «The professionalism of these mega productions is impressive. To be part of it means that the best in the business appreciate my talent.»
No film metropolis
Instead of heading to one of the world's movie capitals, Albrecht moved to the Engadine to write a script about St. Moritz in the early 1900s. «I am writing about this unique place with its grand hotels and the guests who visited St. Moritz back then.» If everything goes according to plan and he finds the right partners, we will get to watch Albrecht on a major streaming platform screen in the drama series he scripted himself three to four years from now.
For him, being able to write and produce, on top of acting, is a must: «I would suppress a part of me if I didn't do that.» Just as he sees himself as more than just an actor, he doesn' t limit himself to movies and TV series. He will appear on the stage of The Gods of Silicon Valley, which debuts – it is a world premiere – in Chur next January. «I play the part of an asshole,» he says with a wide grin, squinting into the Engadine sun. It means a lot to him to be able to work in the parts of the world he calls home. «Globalism is dying. Creating works regionally is becoming increasingly important – the same holds true for culture.»
Alexander charges up his batteries in the vast outdoors of the Engadine Valley. He finds long walks and hikes soothing, and they spark new ideas for his many endeavours. «Here, I feel relaxed and tranquil. The Engadine is both modest and chic. You can live in seclusion, yet you're never far away from the action. It is from here that I want to shape my future!»