Endurance sport is inner growth
Many guests of Skiservice know Semira Bontognali. She worked here for 16 years – most recently, as manager of the St. Moritz store. She is now pursuing her passion and doing her dream job: training triathlon athletes.
The 33-year-old St. Moritz native has always been passionate about sports. When she was just a girl, Semira achieved notable success, first as a ski racer and later as a cross-country skier. At the age of fourteen, she zeroed in on the multisport triathlon: swimming, biking and running combined into one competitive sport. In those days, the Engadine had no club where she could have trained as a junior athlete. «Hardly anyone knew what triathlon was,» she recalls.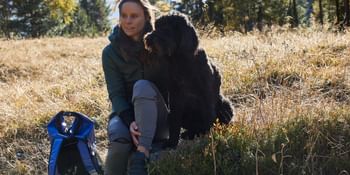 Left to her own devices, she taught herself the sport. With the support and advice from her skiing and swimming coaches, she soon scored wins. She garnered multiple titles as Swiss junior champion and took part in European championships. Semira Bontognali never made it quite to the top at an international level, but her passion for the sport never faded. «Despite being an individual sport, in triathlon, all categories train and compete together.»
«In triathlon, every individual becomes part of a larger whole,» says coach Brett Sutton. In the wake of his move to the Engadine Valley, the high-altitude training centre St. Moritz has become a hub for junior and elite triathlon athletes. Arguably the world's best-known triathlon coach, the Engadine-based Australian has led Nicola Spirig to Olympic medals and Daniela Ryf to multiple triumphs at Ironman Hawaii.

As it happens, it was Sutton who recognised Semira's potential. Not as an athlete, though, but as a coach. Semira had been teaching and training swimming to kids for many years at the Ovaverva aquatic centre, often in the lanes next to Brett's elite triathletes. «It was very obvious that Semira indeed had high skills in handling groups. She leads them well, and the groups show great discipline. What was just as obvious was that the groups loved her,» says Sutton, explaining why he picked her.
«When Brett first asked me, I had to let it sit for a while,» Semira remembers. «I was working full-time at Skiservice, and I loved my job. To turn coaching into my main and only job was a big step.» Semira listened to her heart, gave in to her passion and said yes.

Today, she is one of only three coaches in Switzerland that Brett Sutton fosters and has at his side. Some of the world's top elite athletes are part of Sutton's Trisutto training group, as much as up-and-coming athletes and amateur athletes preparing for major competitions, such as the Ironman Series. As he does for his athletes, Brett Sutton has put together a training programme for Semira that will gradually guide her to her tasks. In her first year, she was his assistant, organising lodgings and booking lanes at the pool or training slots at the gym.
«Today, I am a trainer, helping athletes prepare their training and competition schedules; I am a motivator and at times even the strict supervisor, who makes sure that the schedules are stuck to,» she says, describing her activities. Sometimes, she might even have to hold back her athletes when they are attempting too much. «Endurance sport requires inner growth; you won't finish a triathlon just by being fit. One's physical fitness, swimming, biking, and running make up some 20 per cent of an athlete's success. Eighty per cent happen in one's mind. You're fighting your inner self for all those hours of the race.»
Semira still teaches kids and youngsters as part of the ‹Home of Triathlon St. Moritz› club. «Children have so much positive energy. Each one wants to be dealt with separately, and they are quick learners.» Training younger children involves learning a technique through playing. Variety is key to keep up their enthusiasm. Competitive elements are added early on and, bit by bit, working on endurance.
Nicola Spirig, an Olympic champion and mother of three, is convinced Semira is doing a good job: «All the kids she coaches are very eager – from the toddlers in the swimming lessons to the older ones training triathlon. Semira is most reliable, and it is obvious she is all-in.»
The kids in Semira's groups are spreading the triathlon bug in the Engadine valley. «More and more kids are approaching me, wanting to take up the sport,» Semira says. Fifty children and 20 adults train in ‹Home of Triathlon›. More likely than not, there are budding top athletes in their ranks. The Engadine comes close to being the perfect training location. «The Ovaverva sports centre, the track-and-field facilities on the Polowiese, the endless trails and the many mountain and valley roads combine to make the world's best environment to train in.»
This circumstance does not go unnoticed by adult athletes. They spend more of their time training here, and some have even relocated here. «It is easy to unwind here; you don't have the hustle and bustle of the city,» Semira says. «There is no place I'd rather live and work.» Even Brett Sutton had to bow to that. «Semira is developing into an international level coach. But she is a true valley girl. I couldn't entice her to leave her beloved Engadine valley, not for love or money. The kids and adults of this area are very lucky to have a teacher of her calibre for summer sports.»