With a view of the Mediterranean
Steep slopes and varied terrain for off-piste skiers – a restaurant that affords a view almost down to the Mediterranean Sea and the charm of the 1960s: The Lagalb, situated on the Bernina pass, is the insider's mountain in the Engadin.
Welcome in the time machine. Time seems to have stood still here at 2,959 metres. Today, still, the Lagalb exudes the charm of the sixties from when the cableway was built. A lot has happened since, but nothing much has changed here. The charm of the Lagalb lies in its remoteness – which risks being its downfall, too.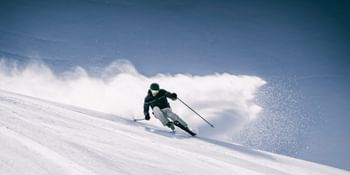 The Lagalb will forever be the insider's tip
Never in its fifty years of existence has it made a profit. Chair lifts and ski lifts were built and later dismantled. World Cup races were supposed to bring fame. Even an animal zoo was set up at one point. At the end of the winter, the mountain cableway will change hands once again. All that matters is for it to stay on.The Lagalb has cult status.
Where, a black slope is still a black slope. The flank situated right below the top station is something to be reckoned with. It is arguably the steepest slope in the Alps and isn't groomed all winter. There is no going back once you set off.

On a sunny day, you can see almost as far as the Mediterranean Sea. 2,000 metres below lies the Val di Poschiavo in which nestles the Lago di Poschiavo. Its summer climate is almost Mediterranean. In the Valtellina, just around the corner, fruits grow in summer and excellent wines are made. Italy is palpable.