Leo Luminati and Romano Salis each have three professions. The two young men from the Engadine combine their outdoor jobs with an opportunity to provide unique experiences to visitors. Both share high expectations for their gear.
Leo and Romano have many talents. Both say they are mountain guides first of all.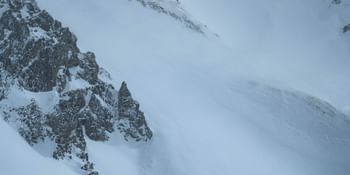 On any alpine trek on foot or skis, a mountain guide, besides being a crucial safety measure, will share unforgettable moments with his guests. Although the routes they take with their guests are easier than when they head off alone, both agree that showing new places to the guests is immensely satisfying.
«I remember a tour we did in the Val Bregaglia» Romano says. «We were on our way down over a slope with rocky debris and large boulders as we happened on an ibex, standing still a short distance ahead. Being able to see him in the eye so close up was not only exceptional for my guest but me too.»
It is no coincidence that Romano stumbled on the ibex. His second profession is that of a gamekeeper.
Protecting the game is his primary responsibility; he watches over more than 200 ibexes. He spends a lot of time observing the animals, which in turn, fits in perfectly with his third profession: that of a photographer. He has made quite a name with his pictures of nature and landscape of the Engadine and the Val Bregaglia. «I took up photography as a teenager. With my first salary jobbing at a mountain hut, I bought my first photo equipment.»
Leo works as a ski instructor as his second profession. «I love to ski with my guests. But to do the more challenging tours higher up, you need to be certified as a mountain guide.» Forester is Leo's third profession. «The combination of my three professions makes it impossible for dullness to creep into my day to day routine. Working in the woods is almost like an activity holiday to me.»
Two men, three métiers each – the third figure three is still missing: On their tours and doing sports in winter, both bank on a three-layer-system. If you are out in nature a lot, you need to be able to continually adjust what you are wearing. Hardly any occupational group poses as many challenges to winter garment manufacturers as do mountain guides and ski instructors. They will not compromise on the quality of their gear. Leo elaborates: «Merino wool next to the skin, a fleece in between, and an outer layer that shields against wind and water. That's my three-layer-system.»
Mammut's Eiger Extreme Collection is made of lightweight, abrasion-resistant materials. The Swiss collection, developed with top athletes, unites freedom of movement, functionality, lightness, and appealing design with trendy colours.