Fanny Smith is one of Switzerland's most promising medal hopefuls for the Beijing Olympics. The best ski cross skier of our days speaks of her victories, injuries and escaping the classroom to find her passion in sports.
«New courses have always been good to me,» replies Fanny Smith when asked whether she is looking forward to next winter's Olympic games. Her carefreeness is astounding. No name is mentioned quite as often as hers when experts or the public speculate about Olympic gold medal contenders in women's ski cross. «A course shaper is like an artist; designing a ski cross course is a creative process,» she says and adds, «as an athlete, I need to be equally creative to see the best line and then to make the course become a part of me in the training runs and eventually the race.»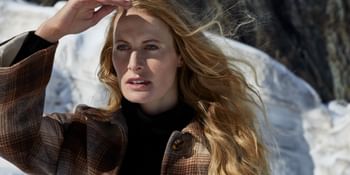 At Ski Cross, four skiers start in a heat side by side on a specially designed course over rollers, breathtaking jumps and high-banked turns. Unlike in alpine skiing competitions, which are raced against the clock, it only matters who gets across the finishing line first and second. Only these two skiers qualify for the next race; the other two drop out. In the final race, places one to four will be awarded.
In Ski Cross, it is much about tactics: «If you're lagging, you get the whole picture and can find a way to overtake the ones ahead. But you need to watch out like hell not to collide with anyone, or both of you will fall,» she explains. The 29-year-old has been racing in the World Cup since 2008. In 2013, she became World Champion, and three times she finished the season as overall World Cup champion. Fanny has 29 World Cup victories – more than any other ski cross athlete, male or female.
Her success lies as much in dominating the field from behind as it is in winning from the front. «If you're ahead, don't think about what's behind you. You need to look in front and focus on making the perfect run. No one behind you should be able to ride in your slipstream.» A feat reserved for a superb skier with an unperturbable self-confidence – such as Fanny Smith.
Hearing her speak of racing tactics, sharpness of bends and slipstream, you might mistake her for a Formula 1 pilot. «Ski Cross is like the Formula 1 of ski racing,» she concludes. No doubt, the relatively young sport has all the makings of a crowd puller. Ski Cross receives less coverage than the traditional alpine disciplines, but audiences are growing year on year. Fanny knows it takes time and events with international appeal for a new sport and its protagonists to rise.
One such event will be held in the Engadine in 2025: Silvaplana and St. Moritz will host the Freestyle World Championship. The world's top freestyle skiers and snowboarders will compete in halfpipe, moguls, aerials, slopestyle and cross over the ten days of the event. Fanny is looking forward to racing down the new ski cross track on Corviglia. «Competing in front of a home crowd is fantastic.»

«I plan to compete until after the 2026 Olympic Games in Milan,» she says and adds, «But, I don't just want to take part in the races – I want to hold my place at the top.» As a professional athlete, she knows better than anyone else that an injury could mean a break or even end her career. With competitions being held in heats of four, spectacular crashes happen all too often, sometimes involving multiple skiers. «Ski cross isn't dangerous,» she says nontheless. When asked whether her mother would agree, she smiles: «My mum trusts me.»
Fanny suffered injuries herself. After a nasty knee injury in 2011, doctors told her she would never ski again. But she set her mind on proving them wrong and returned to the World Cup circuit stronger than ever: In the season she gave her comeback, she grabbed the overall World Cup and turned World Champion. Even Fanny is not a robot, though. In 2014, her career once again hung on a knife-edge. This time around, it was not a physical hurt: «My biggest hurt was mental. I lost all my confidence in myself,» she recollects.
Once again, she returned to the top to win a bronze medal at the 2018 Olympic games and two silver medals at the 2019 and 2021 World Championships. What drives her to keep pushing her limits is her passion for her sport, she says. «As a toddler, barely able to walk, I would climb into my big brother's ski boots and wanted to go skiing. My first go at ski cross was at the age of twelve, and I was hooked instantly.»

The reason why doing sports means so much to her partly lies in her school years. «I am dyslexic,» she says. This makes reading and writing harder for her than for her peers. «I don't have fond memories of school, and sport was a way for me to escape the classroom». She turned pro at the age of 16. Women competing against women and the sheer adrenalin rush are her everything.
Fanny's words flow easily; she speaks spontaneously, pausing to reflect once in a while. The exuberance she radiates is contagious. «In China, I want to win the best-possible medal,» she says diplomatically of her goals for the season. Those who know her know she wants to win – Olympic gold is the one thing missing in her extensive medals collection. She hasn't decided yet what will follow her career as a professional athlete. «For sure, I will take up something I am passionate about. It will be outdoors and with people. You won't find me stuck in an office.»

According to Fanny, ski cross is alpine skiing's Formula 1. Would she race cars too? Fanny beams, and her eyes light up: «To drive a racing car like that would be my dream!» A dream that may yet come true – her main sponsor Red Bull, as is well known, owns two racing teams in the other Formula 1.