The triathlete Philipp Bosshard is in training for his first Half Ironman. He was able to join a pro training squad in the Engadine thanks to the local ‹Home of Triathlon› association. For Philipp, sport is more than just a hobby—it is his way of returning to everyday life after a serious accident.
Six-thirty on a Monday morning at the ‹Ovaverva› sports centre in St. Moritz: long before the pool opens to the public, a small group of triathletes has come for a swim session. Olympic champion Nicola Spirig, winner of Ironman Hawaii Daniela Ryf, Olympian Andreas Salvisberg and Philipp Bosshard are swimming laps under the scrutiny of Aussie star coach Brett Sutton and local instructor Semira Bontognali standing alongside the pool.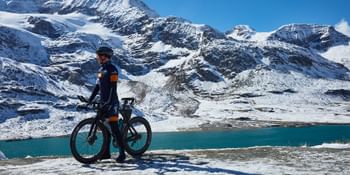 Semira runs the association ‹Home of Triathlon›, whose purpose it is to provide professional training opportunities in the Engadine to children and amateur athletes. She has her attention focused on Philipp Bosshard, the only amateur that day in the training squad. «Philipp does the same drill as everyone else; he doesn't get special treatment—and he wouldn't want it either.»

«It took some courage to join the group; I had to step out of my comfort zone—but I would do it again anytime,» says Philipp, who has been training with Semira since early 2020.
Once he emerges from the pool, the full meaning of his words becomes clear: most of his skin, all over his body, is scarred with burns. Back in 2014, at a building site, he nearly lost his life in a horrific work accident. He spent two years in hospital, of which many months in an induced coma and intensive care. His chances of survival were minimal, and yet, he fought his way through the ordeal and was able to leave the hospital to go into rehab.

The skin that the surgeons used for his transplants is his own. Lab-grown, it took more than 60 surgeries to implant the new skin. It is, however, almost nothing but scar tissue and is much thinner than his good, multi-layered skin. «At night, when I sleep, my skin contracts with the lack of movement. The first thing I do when I wake up is to stretch it again.»
Philipp likes spending the mornings in the pool. «As I can't fully reach above my head, swimming is the most challenging discipline for me. Even so, the water helps me stretch my body and gain mobility for the day ahead.» And, there is something else that Philipp appreciates: the togetherness in the team. «The people in this group are great. They give me advice and respect me for my athletic performance. With them, I am a sportsman, not a patient.»
«Philipp is always in a good mood, happy to help, and eager for advice,» says the five-time Swiss champion Andrea Salvisberg. «He goes full steam ahead every day, and is still totally relaxed.» Salvisberg's coach Brett Sutton noticed the progress Philipp made: «At first, I was sceptical with where he was at, especially in the swim. But now, he has made a believer out of me—and that is not easy!» Philipp is a valuable addition to the team, observes trainer Semira Bontognali, who works with him in amateur squads too. «His positive energy overcomes everything else. He commits himself fully and motivates everyone else. And Olympic champion Nicola Spirig adds: «I am in awe of how Philipp overcomes his personal challenge and the high athletic goals he sets for himself. Kudos to him—he is one of us.»
Triathlon is more than a hobby to the 33-year-old. He trains two to three times a day, 18 hours a week, with the pros, the local amateur athletes, or on his own. He also goes to physiotherapy a lot. «My physique isn't going to improve much, ever. It is all about preserving what I have accomplished,» he says matter-of-factly. «I had to work hard for everything that I am capable of doing today. If I stop working out, I lose it again. Exercising and taking care of my body is my new job.»
Philipp stands out—and gets stared at. «The biggest limitation in my life isn't physical or from my motor functions; it is the unwanted attention when people eyeball me. Still, I won't hide or hide what I am.» Everyday life is his biggest challenge: «Surviving was almost the easiest bit—finding my way back to a fulfilled life is much more difficult.»

That is where sports come in once again: «Doing sports isn't just good for my motor functions and my mobility. It also forces me to leave my comfort zone and to face the real world and real people. With sports, I can rise above myself every day.» Philipp's new project: Next summer, he wants to compete in his first Half Ironman. 1.9 kilometres swimming, followed by 90 kilometres cycling and 21 kilometres running.
How Philipp fought his way back into his new life is an inspiration to many. He is also a public speaker; with his story, he helps people who have been hit hard by fate to get on with life once again. Anyone will find his advice helpful, though: «Each one of us has their distinct personality, regardless of how they look or how their past life has been,» says Philipp and becomes pensive. «If I can get people to recognise this, then it was worth fighting to survive.»

www.philippbosshard.ch