Miss Sunshine is reaching for the stars
Vanessa Kasper is a professional ski racer. The young Engadine woman is aiming high – and by finishing off the season winning World Cup points, she gave a taste of what is yet to come. She and Skiservice go way back.
«At ski school, I was always the first one to arrive and the last one to leave,» says 25-year-old Vanessa Kasper, remembering being a kid growing up in the Engadine. «I loved it – and I still do!» Her great love for skiing is written all over her face. Her eyes sparkle when she speaks of days spent in the snow. The young woman from Celerina has turned her passion into her career: She is on the Swiss Ski's B-team of pro ski racers.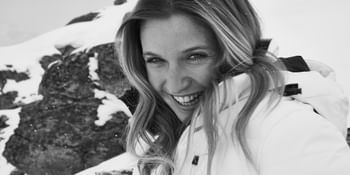 At the end of last season, Vanessa made the public take notice: To everyone's surprise, she finished 21st at the World Cup giant slalom race in Jasnà (Slowakia), securing her first World Cup points since her serious accident in 2018. She is all smiles looking back to the race in Jasnà. «It was amazing!» she beams. «I was able to take part in the race only because someone had dropped out. There was no pressure. I just wanted to show what I am capable of, and hey, made it into the second round.» And, with a grin, she adds: «It's a pity the World Cup's over!» Her positivity is contagious and quite captivating – prompting the photographer to nickname her ‹Miss Sunshine›. «That's me,» she replies when quizzed on the appropriateness of the monicker, «except when I'm hungry, then I can get a bit grumpy,» she adds.
But life for Vanessa Kasper hasn't been all sunshine and rainbows. She took a tumble in the World Cup race in Lenzerheide in early 2018. «In the video, the crash looked terrible, but to me, it did not feel that way. I made a mistake on the inside ski, slipping away, and as luck would have it, the ski edge got a grip once again.» The razor-sharp ski edge wedged into the snow with such sheer force that Vanessa broke both bones in her lower leg. She knew instantly that the season was over. For Vanessa, giving up was not an option: «I went into rehab fully determined to make it as quick as possible. My family and friends were a big help.»
Her family is very important to Vanessa. Both her parents are PE teachers; her dad used to be the coach of the Swiss national ski-country skiing team. Both understand the soul of an athlete. «In a way, the injury even had a good side: I was able to spend more time with my parents,» she says, laughing, and adds, in a more serious tone «When I started working out for the next race season, I realised something was wrong. My fractured fibula wasn't healing properly.» Vanessa was in so much pain that she had to undergo surgery a second time. «That was a big blow. Everything felt fine when I was doing everyday stuff – and still, it made me miss yet another season.»
But Vanessa would not be Vanessa if she had missed a beat turning to something different to lift her spirits. «I couldn't ski, but the doctors hadn't told me not to go cross-country skiing,» she recalls. She began spending her days on the Engadine cross-country tracks with her parents – and her ambitiousness yet again flared up: «I prefer the tempo on the icy slopes to the exertion on cross-country skis, but I am a decent cross-country skier.» At the end of winter, within a week, she competed in the Engadine Ski Marathon, the Engadine Women's Race and the Engadine Night Race. «I still don't know where I got that endurance from,» she grins.
The injury in 2018 is history; the 2022 racing season has begun. Vanessa is aiming high; in a perfect world, she would want to pick up where she left off last spring: in the giant slalom in the World Cup. However, the season opener in Sölden did not work out as planned: Vanessa missed a top 30 spot. Whether she will continue to race in the World Cup will depend on her rankings in the coming races. Vanessa is realistic. «I first need to make it to the top in the European Cup and hold my place; then, I can move on.»

Between her training sessions on the snow and at the gym, Vanessa is studying remotely. First goal: a bachelor's degree in marketing. She spends her spare time mostly outdoors, running in the woods, riding a horse or taking pictures. «There is no place in the world I'd rather train than the Engadine valley. This place has something magical; it can take on a million different looks.» That might explain why Vanessa spends every minute she can training outdoors. «Sometimes, I have to force myself to take a break,» she admits and adds, «I can't sit still – especially not when the sun is out.» It's a good thing, then, that Zurich, where she lives with her boyfriend, also knows grey and drizzly days. «It gives me a chance to be lazy and spoil myself.»
«I want to improve every day», she replies when asked about her goals for the upcoming season. Being a professional ski racer is a tough job. A tiny detail might decide on success or failure, and everything can be over in a split second; Vanessa is all too aware of that. Still, she wouldn't trade in her job for anything in the world: «Skiing is my passion. Every day, I am grateful that I was able to turn it into my career.»