Olympic triathlon champion Nicola Spirig is preparing for her fifth Olympic Games. There is a fair chance she might carry off her third medal at the Games in Tokyo. The pandemic may have postponed the event, but it hasn't changed any of the important things in her life, says the mum of three, whose favourite place to train is the Engadine Valley.
Athens, Peking, London, Rio: Nicola Spirig (38) has already clocked up four Olympic triathlons, winning gold in London, and silver in Rio.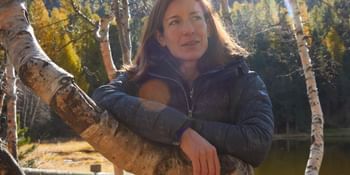 After giving birth to baby number three in 2019, she began preparing for ‹Tokyo 2020›. One last time, she staked everything on the ‹Olympics›. Then came the pandemic, and in its wake, the big uncertainty.

«I was relieved when the news came that the Games had been postponed to 2021,» she recalls. For as long as the decision was still pending whether or not the games would be held in 2020, she had to keep at her training with full intensity. «My attitude puzzled some people. The pandemic challenged the status quo, many were worried they would lose their jobs or fall ill—and I went running, cycling, and swimming. But, I am a professional athlete—this is what I do for a living.»
After the announcement of the postponement, Nicola Spirig took her time to decide whether or not she would start at the Games in 2021: «Being an athlete isn't a one-woman-show in my case. Competing at Olympic Games is a big endeavour that can only ever happen if my family, my coach, my sponsors, and my whole entourage goes along.» Only once everyone was on board, could the adventure ‹Tokyo 2021› begin a second time.
Nicola's husband Reto Hug is a title-holding triathlete himself—one-time European champion and silver medallist at world championships. In 2012, he retired from competitive sports. He and Nicola started a family, and today, he is dad-at-home to their three children and organiser of the ‹Kids Cup by Nicola Spirig›, a triathlon series for children aged five to fourteen, that he and his wife started in 2014. «Without Reto, I couldn't even dream of staying at the top,» Nicola Spirig puts into words her husband's importance for both her career and their family. «Because I know he's at home with the kids, I feel good about heading off for the workout.»
Being a professional triathlete is no doubt unconventional, but Nicola Spirig sees herself as a regular working mum. «The pandemic may have changed many things, but what's important in my life is unchanged. Before I had kids, sport outranked everything else; today, it is my kids that take priority over anything else.» Her eldest son Yannis (7) is now a first-grader, and so her training schedule increasingly works around his school schedule. «Just like any other mum, the kids will keep me awake at night when they're sick. But I still have to go and train the next day, that's just the way it is.»
The ‹Corona summer› turned her family's plans upside down too. The schools closed, so Yannis had to do home-schooling. «We were lucky, though, because I too trained from home as the training camps in the South and most of the competitions fell through.»

Many dos with media and sponsors were cancelled too, so Nicola Spirig was able to spend more time with her family—precious time, she recalls «We did so many things together. Just small things, more often than not: taking a stroll in the woods or going on a small outing in the area. Also, Reto and I trained on the racing bikes together, which we hadn't done in so many years.»
But the blissful times did not last. If you have an Olympic medal in mind, you can't let up on your preparation. And so it came that the autumn holidays in the Engadine were a family holiday for the kids and, for her, a training camp with the family in tow. As he would always do, coach Brett Sutton set up a new training programme for Nicola every day.

«Brett will watch every one of my training sessions or else wants detailed feedback from me. Only then, does he decide on the next day's training routine,» explains Nicola. «With three training sessions a day, it is close to impossible to plan a family vacation.» Still, the family was able to do a lot of things together and enjoyed those moments. «Come winter, and it will be a real challenge to keep the training intensity at a high level. I miss the training camps and the competitions,» says Nicola.
Nicola Spirig will continue to train for the Olympic Games mostly around Zurich and in the Engadine until early next summer: swimming at the Ovaverva Sports Centre in St. Moritz, cycling on the roads between Champfèr, Silvaplana and Maloja, and running on the 400m running track and in the woods around St. Moritz. «There is no place else I enjoy running as much as I do up here,» notes Nicola Spirig, «and training at high altitude is good for me.»
In Tokyo, though, the heat will be sweltering—up to 40 degrees centigrade and high humidity to boot. The total opposite of the high-altitude climate of the Engadine. That is why preparations for Tokyo include a boot camp in the South Korean heat. Queried on how high she set her aims for Tokyo, she states, «I am giving my all.»
Good things go by threes for Nicola Spirig: three children, three disciplines, and hopefully, in 2021, her third Olympic medal. What comes after that she doesn't know yet. «Tokyo will be my last Olympic Games,» she says, laughing, «but then, I said the same thing after Rio too.»

www.nicolaspirig.ch