A century-old place of longing
A popular hike in summer, the most beautiful break in winter – that is what the Fuorcla Surlej on Corvatsch has been for 125 years. Its owner Claudia Rähmi has been safekeeping a tradition most mountain huts have lost.
No one quite knows how old the Fuorcla Surlej is. It goes back at least 125 years, possibly more. The oldest family records are dated 1899. «Fuorcla» is the Romansh word for «crossing». The Fuorcla Surlej sits on the ridge that is the passage from Silvaplana into the Val Roseg. It was popular long before today's Corvatsch cable car was built. Mules would cart guests of the St. Moritz luxury hotels – along with champagne and other treats – to the Fuorcla in summer.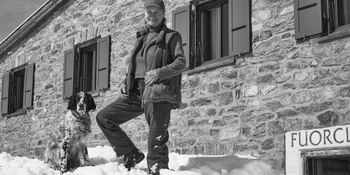 The early wooden shack, which had housed mountaineers, traders and their pack animals and the occasional smuggler, was converted into a portly stone house in the 1960s. «That was when they built the Corvatsch cable car, and my dad was banking on the many guests it would bring,» Claudia recalls. Guests arrived in throngs, and Claudia's parents had their hands full with the restaurant and the eight dorm rooms.

«It was wonderful,» she says of her childhood days. «My brother and I would wander off in the morning with some provisions and return with our small backpacks filled with rocks. There wasn't a crevasse between Corvatsch, the Val Roseg and the Lej dals Chöds that we didn't know – we had the best playground you can imagine!»
The panoramic view from the Fuorcla Surlej is second to none: the Lake of Silvaplana, the Julier Pass and afar the Piz Nair to your north and west; the evening sun bathes the peaks above Pontresina in a golden light, and to the south, the massive Bernina mountain range and Tschierva Glacier are up close.

As a young adult, Claudia moved to Zurich to study law. «I guess it was my strong sense of justice breaking through – and a bit of post-pubescent urge for freedom thrown in,» says Claudia, who went on to pass the bar exam and adds with a grin, «even though I wasn't a saint either.»

Fate brought her back to the Fuorcla. «My dad died at a very young age, and my mum found herself all alone.» A trained attorney by now, Claudia got an innkeeper's licence and moved back home. She has no regrets. «The Fuorcla has always been a part of me. I knew I would be back; that's where I belong.»

Nothing has changed much about the mountain hut since its renovation half a century ago, although it's been well maintained. The earth closet is still there, and so are the wood-fired ovens in the dining room and the kitchen. The Fuorcla is an authentic mountain hut, as the menu shows: homemade barley soup, potato salad, fried eggs with bacon are some of the staples. Payment is in cash, and the traditional nut pie comes with a strong Nescafé. «My solar cells don't provide enough electricity to run an espresso machine,» she explains and adds in her straightforward manner, «You can get a latte macchiato with almond milk anywhere else.»
Claudia has many returning guests – locals and vacationers alike – some of whom have been coming for decades. She sees more and more young people too. «There's no DJ on my terrasse, you need to get your food at the bar, but everyone is cool.» No one is treated any differently – one of the secrets of the laid-backness of the place – something a true VIP will appreciate.

Come nightfall, after the last guest has left, Claudia Rähmi enjoys the quietude of her little paradise. «I like being alone – but never without my dog!» she says. English setter Janis, named after the rock and blues legend Janis Joplin, follows her every step. She is an inveterate yogi, likes riding out her Arab mare when in the valley, and in autumn, she goes hunting. «Armed walks,» she comments with a grin.

All hobbies have to pause come the tourist season. Keeping the hut is a full-time job. «People love this place. They only ever see it when the sun is shining,» Claudia says. «But working and living here can be harsh.» Temperatures inside the hut can drop below zero despite the stove causing the toothpaste to freeze. On a stormy winter day, no one will venture their way to the Fuorcla. There's work to be done all the same.
Claudia stopped taking lodgers a few years ago. Running the restaurant is a 12-hour-shift in itself. Others her age are enjoying their pension. «The Fuorcla is my home. I will stay here as long as I can and enjoy it,» she comments on her plans for the future. Those who know the Fuorcla Surlej will find it difficult to imagine it without Claudia Rähmi. And those who know Claudia will want her to be there for many years to come.